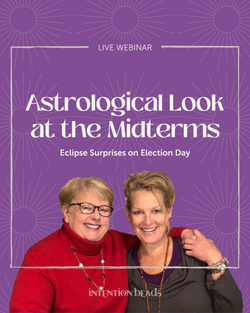 Astrological Look at Midterms Astrology Webinar
This webinar was recorded LIVE on Wednesday, November 2, 2022. Purchase now to stream the webinar! (1-hour webinar & slides)
ABOUT THE WEBINAR
Eclipse Surprises on Election Day
Get the popcorn ready for an all-day political watchfest! The U.S midterm elections on November 8 promise constantly changing storylines and surprises under a Full Moon/Lunar Eclipse that is exact less than an hour before the polls open in Washington, D.C.
An eclipse all by itself can bring a sudden change, but with the Moon conjunct Uranus, that capability is amped up to the max. To expect the unexpected is an understatement. Filed under "good to know" is that Mercury, the communicator, is cazimi the Sun nearly the entire 24 hours that day, voters, analysts and commentators will do those tasks with extreme clarity. However, that means Mercury is opposite Uranus, so surprising messages are to be expected.

Join Sandy and Susan to better understand how this Full Moon/Eclipse energy is affecting the United States and all of us who live here. They'll show how current headlines reflect these astrological pressures and see what this could mean going forward. And, if you are having some big changes and pressure in your life, join them for a personal look at your chart right afterwards!

ABOUT THE WEBINAR SERIES:
The CWS Astrology Webinars are a great way to learn more about astrology! Sandy and Susan are teaming up to provide lessons on both current astrological transits and the basics of astrology. Their unique way of teaching is upbeat, humorous, and approachable. Join this duo either LIVE for the airing of the webinar or REWATCH the recording anytime afterward!
WAYS TO PERSONALIZE THE WEBINAR:
Since our webinars will be speaking about the general astrological phenomenon, we will not be able to focus on individual charts. However, if you'd like to personalize the webinar- there are two options:
NOT AVAILABLE FOR THIS WEBINAR When Sandy and Susan are discussing the transits- they mention specific chart points that may correlate to yours! For $5, you can add a digital copy of your Chart (natal astrological chart + the current transits), which is emailed to you directly. Choose "Yes" to add this to your order & include your birth data below!

Stick around after the webinar to speak privately with Sandy and Susan about your chart! It is best to schedule these prior to the webinar, however, if there are any appointments available, you are able to sign-up during the webinar. ($90 for 30-minutes) Schedule here: 

https://intentionbeads.as.me/webinar30
 HOW TO JOIN THE WEBINAR (LIVE):
Once you have purchased the webinar, you will receive an email (to the email you used at checkout) with the Webinar Zoom link. As well as email reminders on the day of! And if you are new to zoom, make sure to test the link before the LIVE webinar!
IMPORTANT: You will not receive reminder emails or links if you don't opt-in for the mailing list at checkout!! If you do not receive a confirmation email with the login links, reach out to  alex@intentionbeads.com to opt into our emails.
HOW TO WATCH THE WEBINAR (RECORDED):
Once you have purchased the webinar, you will see a link on the checkout page (and via email). You can access all your purchased webinars and downloads when you log into your account. There you can stream the video recording as well as the slides from the webinar! And watch at your leisure!