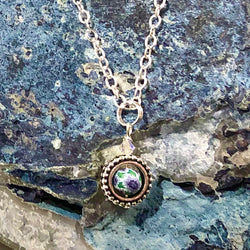 Hand created by Sandy on July 1, 2014 8:30 pm Chicago, IL
Mercury + Pluto - Jupiter = Venus
Affirmation: "I Am Connected"
Sandy says: "The formula for this transit using Symmetrical Astrology equates to happiness in love, lucky in love and lovers bliss. Who doesn't want that?"


The Orbit bead is hand-sculpted during auspicious astrological timings. Close to your heart, the bead "orbits" within the pendant. This travel-size talisman travels with you to guide your footsteps and direct you to your intention. 
Includes:
Orbit necklace & pendant (24" sterling silver-plated chain)

Instruction card (the how-to)

Detachable affirmation card (to travel with you in a wallet or pocket)
#341