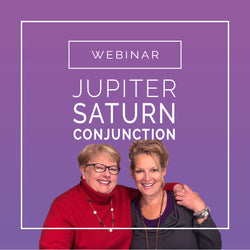 Jupiter Saturn Conjunction Astrology Webinar
We are very excited to bring you our newest online webinars and we hope that they provide you with valuable astrological information. The LIVE Jupiter Saturn Conjunction webinar will begin on December 9 at 5:30 pm Central (1-hour). 
Why is this such a BIG deal? 
Jupiter and Saturn will be making their move into Aquarius within days of each other- ushering in the new air economy (and some astrologers are even arguing- The Age of Aquarius). This is incredibly important because the last time these two planets were conjunct in an air sign was over 200 years ago! Since the beginning of 2020, Jupiter and Saturn (and throw Pluto in there too) have all been conjunct in Capricorn (earth sign) which was a HUGE power struggle of authority and the feeling of suppression. Now that they will be moving together into Aquarius (air sign), this will be bringing a new sense of freedom, community, and innovation.
ABOUT JUPITER SATURN CONJUNCTION:
Jupiter wants to grow, and Saturn wants to stabilize. Put these two on the same team (conjunction) and you can reach the highest heights with stability and groundedness. When these two planets work on the same team- lots can get done. Jupiter by himself will daydream, and Saturn will make those daydreams a reality! 
Jupiter: the planet of expansion, higher knowledge, & big ideas
Saturn: the planet of discipline, hard work, & structure
Conjunction: the transit of commonality & teamwork
ABOUT THE WEBINAR SERIES:
The CWS Astrology Webinars are a great way to learn more about astrology! Sandy and Susan are teaming up to provide lessons on both current astrological transits and the basics of astrology. Their unique way of teaching is upbeat, humorous, and approachable. Join this duo either LIVE for the airing of the webinar or DOWNLOAD the recording anytime afterward! 
WAYS TO PERSONALIZE THE WEBINAR:
Since our webinars will be speaking about the general astrological phenomenon, we will not be able to focus on individual charts. However, if you'd like to personalize the webinar- there are two options:
When Sandy and Susan are discussing the transits- they mention specific chart points that may correlate to yours! F

or $5, you can add a digital copy of your Chart (natal astrological chart + the current transits), which is emailed to you directly. Choose "Yes" to add this to your order & 

include your birth data below!

Stick around after the webinar to speak privately with Sandy and Susan about your chart! It is best to schedule these prior to the webinar, however, if there are any appointments available, you are able to sign-up during the webinar. ($40 for 15-minutes or $80 for 30-minutes) 

Schedule here: https://intentionbeads.as.me/webinar15 or https://intentionbeads.as.me/webinar30
HOW TO JOIN THE WEBINAR:

Once you have purchased the webinar, you will be directed to a page with a download (you will also receive the download link via email). Download that PDF for the log-in links for the Zoom webinar. 
When joining the webinar, you will need to click the Zoom link either from your smartphone or computer. And make sure to test the link before the LIVE webinar!