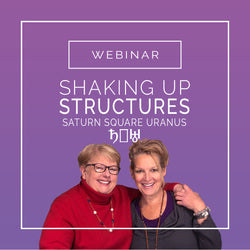 Shaking Up Structures: Saturn Square Uranus Astrology Webinar
This webinar has been previously RECORDED.
Purchase now to download! (1-hour webinar & slides)
ABOUT SATURN SQUARE URANUS:

Saturn (our stability and governance) will be tested by Uranus (the sudden and unexpected). In astrology, squares create tension between things and challenge us to find a resolution. Happening this February (and throughout the rest of 2021) the status quo (Saturn) will be challenged and forced to find compromise (squared) by change and innovation (Uranus). 
This webinar will teach you:
The characteristics of Saturn, Uranus, and Squares

Historical events at previous Saturn/Uranus transits

Stock market behavior at these transits

Where to spot the Saturn/Uranus square in your horoscope

What the Saturn/Uranus square is asking you to focus on in your life
ABOUT THE WEBINAR SERIES:
The CWS Astrology Webinars are a great way to learn more about astrology! Sandy and Susan are teaming up to provide lessons on both current astrological transits and the basics of astrology. Their unique way of teaching is upbeat, humorous, and approachable. Join this duo either LIVE for the airing of the webinar or DOWNLOAD the recording anytime afterward!

WAYS TO PERSONALIZE THE WEBINAR:

Since our webinars will be speaking about the general astrological phenomenon, we will not be able to focus on individual charts. However, if you'd like to personalize the webinar- there are two options:
When Sandy and Susan are discussing the transits- they mention specific chart points that may correlate to yours! For $5, you can add a digital copy of your Chart (natal astrological chart + the current transits), which is emailed to you directly. Choose "Yes" to add this to your order & include your birth data below!
Stick around after the webinar to speak privately with Sandy and Susan about your chart! It is best to schedule these prior to the webinar, however, if there are any appointments available, you are able to sign-up during the webinar. ($90 for 30-minutes) Schedule here: https://intentionbeads.as.me/webinar30

HOW TO JOIN THE WEBINAR (LIVE):
Once you have purchased the webinar, you will receive an email (to the email you used at checkout) with the Webinar Zoom link. As well as email reminders on the day of! And if you are new to zoom, make sure to test the link before the LIVE webinar!
HOW TO WATCH THE WEBINAR (DOWNLOAD):
Once you have purchased the webinar, you will see a download link on the checkout page (and via email). You can download the .zip file which includes the video recording as well as the slides from the webinar! And watch at your leisure!