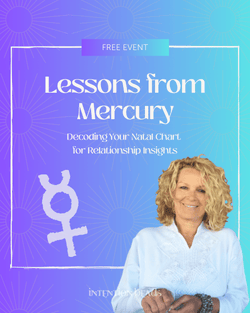 Lessons from Mercury Webinar
PRE-RECORDED & STREAMING
Join astrologer, Sandy Rueve, as she takes you through the Lessons of Mercury. You will uncover the mysteries behind the Mercury symbol, delve into the mythical realm to understand its godly attributes, and gain a comprehensive understanding of Mercury's astrological significance. 
Sandy will demystify Mercury's placement in each of the twelve zodiac signs and their interplay of the four elements – Fire, Earth, Air, and Water. Discover how Mercury's influence manifests within these elemental contexts. Sandy will guide you through the harmonious and challenging connections between them all!
Novices or intermediate knowledge of astrology would benefit from this curated and easy-to-understand astrological webinar.
Important (after LIVE recording, charts are an additional +$5)
IF ADDING PERSONAL CHART(S), make sure to only add 1 to your cart at a time so we can collect all chart information! Steps: Add your birth info - click add to cart - return back to this page - add another's birth info - click add to cart - checkout & you'll receive the streamed video!
Make sure that your birth information is correct!