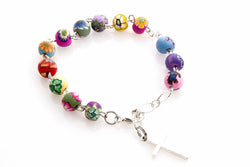 Precious Floral Rosary Bracelet
Easter is here and so are the handmade She Beads that you remember and love! This Easter we are unlocking the She Beads vault to bring you the Easter Collection (Easter Collection should be a link to the full Easter Collection). But HOP TO IT - These items are only available for a limited time! Order by March 28th to receive your package in time for Easter Sunday.
A unique and heartfelt gift with the decade of the rosary. This colorful, handmade beaded rosary has all .925 sterling silver components and is adjustable to any size. Made by us in Chicago!
Great for Family, First Communion, and Confirmation gifts