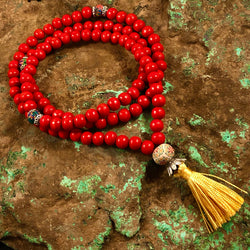 To be solid and tangible.
Intention

To be solid and tangible. 
#234
---
THE BEADS
The intricately hand-sculpted pause and guru beads are created by talisman-maker and astrologer, Sandy Rueve, during powerful astrological transits. The intention is derived directly from the astrological meaning.
THE PROCESS
The hands of three generations have touched this mala: Sandy/Mother creates the astrological Intention Beads, Grandmother strings each bead,  and Granddaughter finishes with a handmade tassel. We believe there is generational healing within each of our malas.
THE PRACTICE
Wear or use this mala daily to represent your daily intention. 
---
Includes
Handmade Mala (36" diameter/18" length excluding tassel) 

108 Wooden dyed beads (made in Germany)

4 Handmade clay pause & guru bead
Silver-plated bead caps
Handmade poly-silk tassel

Information Card (with intention, number, and product info)

Sent inside branded Intention Beads Purple Box (4" x 5.5")