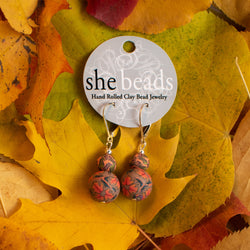 Thanksgiving Harvest Large Bead All Clay Earrings
These beauties pop thanks to two stacked, hand-rolled clay beads on a .925 sterling silver French-clip clasp. Comfortable and lightweight, these are just the ticket for when it's time to dress it up a bit. Handcrafted in the ancient style of millefiori for a custom, unique look.
Details:
Pair of matching earrings
Hand-rolled clay millefiori beads (~6mm/10mm)
French clasp types
.925  sterling silver components
Made by our artisans in Chicago, USA
Collection/Pattern Description:

Thanksgiving Harvest:
Celebrating the fall season and the beginning of the holidays- these beautifully colorful beads feature autumn leaves and fall-time gords!
Want something a little more Thanksgiving? Check out our Turkey items here: Turkey Collection