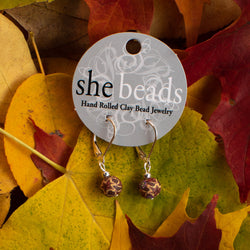 Thanksgiving Turkey Small Bead Earrings
These small-bead earrings will have a permanent spot on your dresser as an everyday standard. Lightweight with a short drop from a French-clip clasp in .925 sterling silver, these earrings feature the beauty of a single, hand-rolled clay bead in a variety of colors and designs. 
Details:
Pair of matching earrings
French clasp
.925  sterling silver components
Handrolled clay millefiori beads

Measurements:  1 inch long and .25 inch wide

Made in USA
Collection/Pattern Description:

Thanksgiving Turkey:

Celebrating the fall season and the beginning of the holidays! Are you ready for Thanksgiving? It's not too early to wear this cute little turkey- Each bead has a large or small version of the turkey!
Not a turkey fan? Check out our Thanksgiving Harvest items here: Harvest Collection