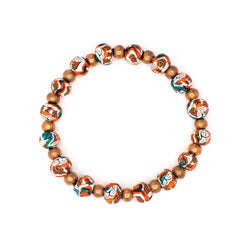 Eye of the Tiger Small Bead Copper Round Bracelet
You'll love this discreet bracelet of small, comfortable clay and silver beads as it slips on your wrist for everyday wear. This is a great gift at an affordable price. Or, mix and match with varied designs in our small- or large-bead versions of this bracelet. 
Details:
Hand-rolled clay millefiori beads (~6mm)
Copper/Brass-plated rounds (keep away from water!)
Strung on 6ply elastic with braided fabric chording (for extra security for the elastic)
Made by our artisans in Chicago, USA
Collection/Pattern Description:
Eye of the Tiger: Sandy Rueve, born and raised in Cincinnati, loves cheering on her team! This design features the full bengal tiger- one of the fiercest animals of the jungle. Who Dey!