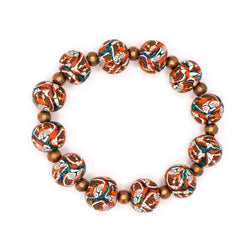 Eye of the Tiger Large Bead Copper Round Bracelet
Mix and match with varied designs in our small- or large-bead versions of this bracelet. 
Details:
Hand-rolled clay millefiori beads (~6mm)
Copper/Brass-plated rounds (keep away from water!)
Strung on 6ply elastic with braided fabric chording (for extra security for the elastic)
Made by our artisans in Chicago, USA
Collection/Pattern Description:
Eye of the Tiger: Sandy Rueve, born and raised in Cincinnati, loves cheering on her team! This design features the full bengal tiger- one of the fiercest animals of the jungle. Who Dey!